Discs and Videos
'Space, concentration and fire take their turns ...Roberts doesn't play like an Englishman. He characterises directly and, at speed, fiercely. In slower music there is unhurried poise and fluidity'
BBC Music Magazine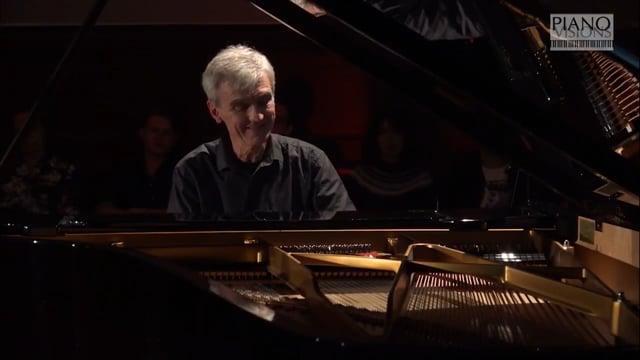 0.03 Doctor Gradus ad parnassum;
02.10 Jimbo's Lullaby;
05.00 Serenade of the Doll;
07.11 The Snow is Dancing;
09.42 The Little Shepherd;
12.25 Golliwogg's Cake-walk
Paul Roberts plays Debussy's suite Children's Corner
Children's Corner was published in 1908 and dedicated to Debussy's two-year-old daughter: 'To my dear little Chouchou with fond apologies from her father for what follows.' It is a masterpiece in miniature, in six parts: an unsentimental reflection of childhood, humorous, touching, occasionally sad. Paul Roberts writes in his book Images:
"The allusions of Debussy's art are delicate and far from specific. Children's Corner is 'about' Chouchou and her toys, but not in the way a tale or picture would be. She and they are a pretext, a starting point, for an exploration through music of the psyche of a child. Debussy asks us to regard a child's toys, not sentimentally in the usual manner of an adult but wth the simple, unaffected faith of a child. For a child imagination and reality are the same phenomenon, and this is also true of artists such as Debussy. Through his music he bridges the divsion between the adult's world and the child's."
The composer Alfredo Casella, who knew Debussy well in his final years, recalled 'he remained to the end what the French call a grand enfant. That same wonderful innocence and limpidity of feeling which is the fundamental characteristic of his art transpired in all his deeds and words. At fifty he amused himself more than did his little daughter Chouchou with the toys brought home for her by her mother.' (Quoted in Debussy Remembered ed. Roger Nichols.)
---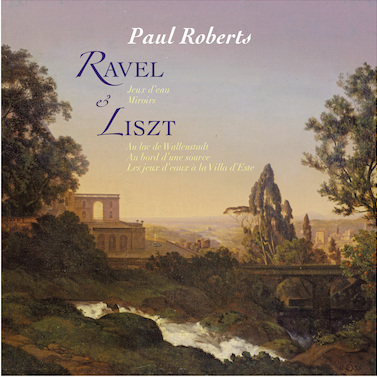 Ravel & Liszt can be purchased from Barbican Chimes
or from Apple Music (hear previews)
Paul Roberts plays Ravel & Liszt
The disc includes Ravel's Jeux d'eau and the complete Miroirs (including his magnificent self portrait as a Spanish gracioso), along with Liszt's 'Au lac de Wallenstadt' and 'Au bord d'une source' from Années de pèlerinage Book 1.
This disc culminates in one of Liszt's greatest works, Les jeux d'eaux à la Ville d'Este. Written in 1877, it is a summation of a lifetime's devotion to piano composition, breaking new ground in the sonic possibilities of the instrument, and fusing Liszt's descriptive powers with a palpable sense of spirituality, both contemplative and ecstatic. On the manuscript Liszt inscribed John 4:14: 'The water I shall give him shall be in him a well of water, springing up into everlasting life.' Liszt infuses his melodic material with vibrant tremolandos, conveying the very presence of the wellspring that gives life to everything around it. The fountains of the Villa d'Este, Liszt's Italian retreat in the last years of his life, were for him a symbol of spiritual aspiration.
Hear Ravel's Alborada del gracioso:
Hear Liszt's Les jeux d'eaux à la Villa d'Este:
---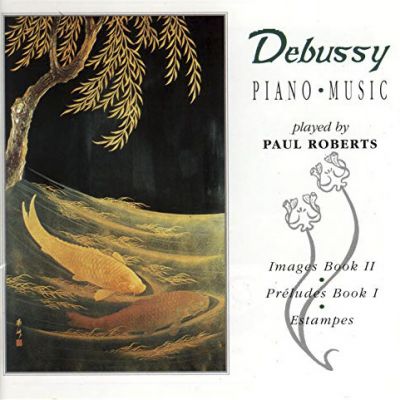 Debussy's Images II, Préludes I and Estampes
Hear 'La cathédrale engloutie' from Préludes I:
Hear 'Les collines d'Anacapri' from Préludes I:
Debussy Piano Music volume 1 is available on Apple Music (hear previews)
---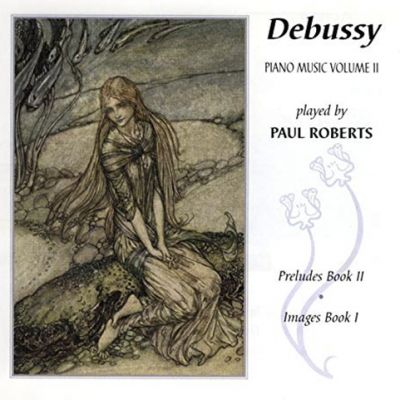 Debussy Piano Music Volume II can be purchased from Barbican Chimes
or from Apple Music (hear previews)
Debussy's Images I and Préludes II
Hear 'General Lavine' from Préludes II:
Hear 'Les tierces alternées' from Préludes 2:
---
Paul Roberts' book, 'Reflections', a sequel to his wonderful 'Images', is a veritable master class on Ravel's mysterious sound world.
I applaud this generously illustrated book, which is a significant contribution to our understanding of the literary and artistic influences on Debussy's piano works. This is a task that few pianists would be up to.

Some years after Paul Roberts's superb 'Images: The Piano Music of Claude Debussy' comes 'Reflections'. . . The richness and colour of his involvement makes this new book an endless source of reference and delight in terms of both scholarship and poetry. A mine of information, it is difficult to imagine a finer or more glowing tribute.